Embark on an incredible journey of discovery with our carefully selected Alunan Excursions, designed to capture the natural beauty of Pulau Perhentian (Perhentian Islands), other nearby islands and what lies beneath the waves. All experiences are entirely dependent upon prevailing tides, weather and local happenings. Please contact our Alunan Excursion Center for further details. Advance booking is highly recommended.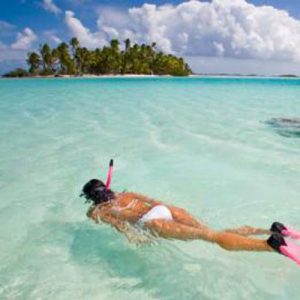 Snorkelling
Whether you choose to delve into the fascinating world of ocean life around Pulau Perhentian (Perhentian Islands) or spend the day exploring the beautiful islands of Rawa, Lang Tengah and Redang, you can rest assured of a truly enjoyable and safe snorkelling experience with our boat captain, snorkelling guide and lifeguard; complete with a delightful BBQ lunch on a beach (for our signature full day snorkelling trip).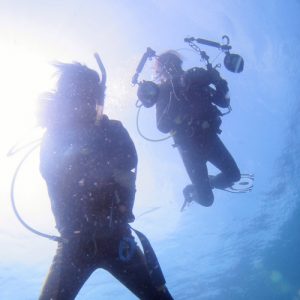 Scuba Diving
Below the surface of the azure sea lies an abundant coral reef ecosystem native to the surrounding waters of Pulau Perhentian (Perhentian Islands) and its neighbouring islands of Lang Tengah and Redang. Home to fish, turtles and other marine life indigenous to this slice of paradise, the colourful backdrop makes it one of Malaysia's most popular scuba diving destinations.
Get in touch with our sister company, Universal Diver, and choose from a full range of dive courses and fun diving experiences that meets all your diving needs.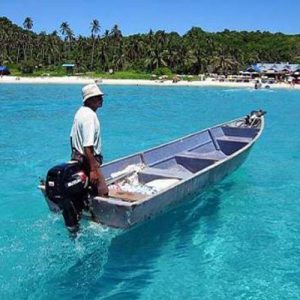 Beach & Island Hopping
Escape to the islands of Perhentian and marvel at the unparalleled beauty of the pristine white sandy beaches that are perfect for swimming, snorkelling, or even a castaway experience on a secluded beach.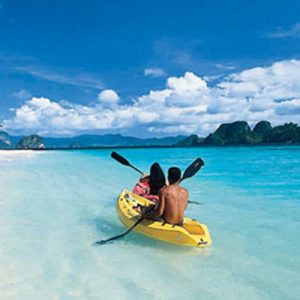 Sea Kayaking & Stand Up Paddle Board
Grab one of our Stand Up Paddle Board or Kayak along the beautiful stretch of coastline around Pulau Perhentian (Perhentian Islands) in warm, clear blue waters. If you're lucky, you might even spot a sea turtle swimming to the surface to breathe. For adrenalin junkies, take an exciting, heart-thumping ride on our Fun Tube as our speed boat whisks you around the sea.
Fun Tube & Wakeboarding
For adrenalin junkies, take an exciting, heart-thumping ride on our Fun Tube as our speed boat whisks you around the sea. Never tried Wakeboarding? Our Alunan Excursion Expert would be happy to show you how..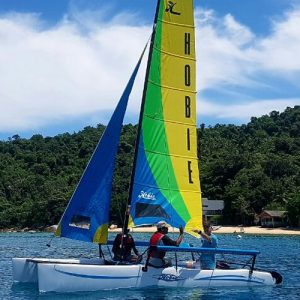 Sailing on our Hobie Cat Sailboat
Catch the sunset as you cruise around the islands in our Hobie Cat or learn how to captain the sailboat and feel the power of the wind in your hands.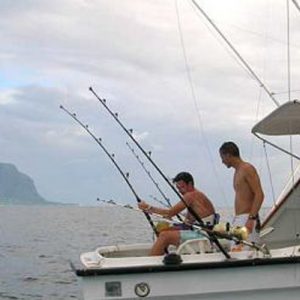 Fishing
Designated as a marine park, the sea waters around Pulau Perhentian (Perhentian Islands) are protected to conserve and manage the marine ecosystem, particularly coral reefs. As fishing is not allowed here, boats are available for charter for deep sea fishing expeditions during the day and night.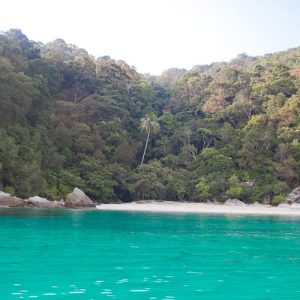 Jungle Trekking
Just steps away from the sandy beach lies a nature lover's paradise. Enticing you to explore its hidden secrets, the lush tropical rainforest surrounding Alunan Resort is home to a host of butterflies, forest birds, wild orchids and native flora and fauna.
From our resort, enjoy a 20-minute walk to the main fishing village of Pulau Perhentian Kecil (Small Perhentian Island) which provides a pleasant trail for an opportunity to spot monitor lizards. Or take a longer walk from our beach (Petani Beach) towards Long Beach to discover secluded beaches whilst crossing paths with big spiders, monitor lizards and perhaps a wild monkey or two.
Explore Pulau Perhentian Besar (Big Perhentian Island) from the Perhentian Island Resort beach towards Arwana Jetty on foot and be rewarded with breathtaking views of the vast ocean from the hilltop and catch a glimpse of wild monkeys and other exciting wildlife as you hike through this jungle trail to feed your spirit of adventure.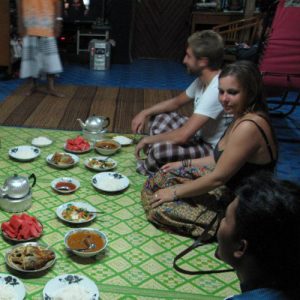 Village Dinner
Experience a glimpse of authentic village life at the Fisherman Village, as you explore the local school, visit a kampung (village) house, learn to tie a sarong and enjoy a simple yet delicious, home-cooked meal prepared by the village women.